July 21, 2007 CalCup 3 (Emeryville) Results
RACE REPORT by JANE & MARLEY
Well we both had yet another amazing race day. Things were a little cramped on deck in the new CalCup boat, so one of us had to spend most of the day in the stern cabin, as it was not until the last moment; we found out that the cushions in the focsal had been removed :-)
Today were joined by Dave Hop for Race Committee. Thank you Dave so much for your help.
Jason Voss held another amazing clinic for us. It was very informative and he gave us lots of new techniques to try out.
We will keep our report very short as Dave has his own report.
We would also like to thank Astrid, 143 & CAN 406 for telling us they were retiring from racing. A big thanks also goes to V= for calling RC from the rigging area and telling us who he had seen ashore. This info makes life so much easier for us!
We will be forever thankful to Soheil for posting all our reports and results.
A big thanks also, to all of you racers, for letting us enjoy ourselves so much, and have yet another amazing CalCup race day.
Hope to see you all and maybe even some visiting racers at the next CalCup race on the 4th August!!
See you soon,
Jane & Marley.

RACE REPORT by DAVE HOP
Well, it was a glorious day of Cal Cup racing at Emeryville on Saturday! Strong, steady winds provided a perfect opportunity to get off numerous starts in quick succession and gave the fleet a chance to make up for the light winds of the earlier races. Except for a couple of broken masts, everything went well and a good time was had by all.
There were a couple of odd events, however, to add intrigue to the day. As the RC was monitoring the racers coming and going from the launch site, Jane noticed what appeared to be someone in the water north of the channel without a board! But since no board or sail was anywhere near him, we couldn't figure out who, or what, it could be. When Mike Z. went over to check it out, it turned out to be someone swimming, with a ski pole as a "hiking" stick. As he was technically still within Berkeley City Limits, it shouldn't really be considered as odd as it may sound.
Then there was a small sailboat sailing back and forth under their mainsail, right in the start/finish area. We advised them they would be in the way of a bunch of finishers, but they replied that they had a broken rudder. When we suggested to them that lowering the main and raising the jib would help them go downwind easier, they tried it and were finally able to clear the race course.
I haven't done RC for a long time, but Jane is a real pro so we managed to keep things going fairly well. What I didn't really appreciate as a racer, however, until Saturday, was the workload involved in not only starting the races and recording results, but keeping track of everyone on the water, providing water to the fleet, answering questions, etc., all from a heaving, rocking small boat. Particularly when you have people with limited experience helping, it is important for the racers to realize that they need to do their part to minimize the workload on the RC by taking care of the basics on their end. These include;
Having numbers on their sails
Attending the skippers meeting
Knowing the course
Having a timer and knowing the flags
Checking in with the RC before each race
Checking out before going in
Even though the RC tries to be accommodating to the fleet, the extra time involved in dealing with such matters detracts from their main mission and increases the possibility of errors.
Hopefully I'll be back on the water soon, but until then, happy sailing!
Dave Hop
VHV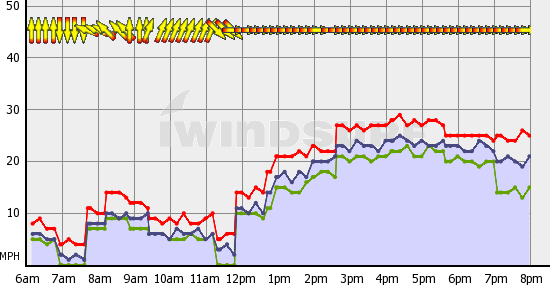 Division: A
| | Sail | Skipper | Total | R1 | R2 | R3 | R4 | R5 | R6 | R7 |
| --- | --- | --- | --- | --- | --- | --- | --- | --- | --- | --- |
| 1 | ML | Zajicek,Mike | 12 | 3 | 12*OCS | 0.75 | 6 | 0.75 | 0.75 | 0.75 |
| 2 | VYV | Percey,Mike | 12.5 | 0.75 | 2 | 2 | 0.75 | 5 | 2 | 8* |
| 3 | 46 | Wells,David | 15.75 | 6* | 0.75 | 3 | 3 | 4 | 3 | 2 |
| 4 | 22 | Bamer,Ben | 23 | 5 | 3 | 4 | 5 | 2 | 11* | 4 |
| 5 | US882 | Mirel,Al | 26 | 2 | 12*OCS | 9 | 2 | 3 | 5 | 5 |
| 6 | 44 | Christianson,Eric | 28 | 14*DNF | 4 | 5 | 4 | 8 | 4 | 3 |
| 7 | K | Kern,Ron | 40 | 8 | 6 | 6 | 8 | 6 | 9* | 6 |
| 8 | a | Zahedi,Soheil | 42 | 4 | 12*OCS | 10 | 7 | 7 | 7 | 7 |
| 9 | 246 | Preuit,Lyn | 50 | 9 | 5 | 8 | 10* | 10 | 8 | 10 |
| 10 | 223 | Davenport,John | 70 | 14 DNF | 7 | 19*DNC | 19 DNC | 9 | 10 | 11 |
| 11 | AP | Prussia,Alan | 73 | 7 | 12 OCS | 7 | 9 | 19*DNC | 19 DNC | 19 DNC |
| 12 | USA12 | Radkowski,Chris | 86 | 14 DNF | 19*DNC | 19 DNC | 19 DNS | 19 DNS | 6 | 9 |
| 13 | Mac | MacGrath,Jim | 105 | 10 | 19*DNC | 19 DNC | 19 DNC | 19 DNC | 19 DNC | 19 DNC |
| 14= | USA4 | Bodner,Steve | 114 | 19*DNC | 19 DNC | 19 DNC | 19 DNC | 19 DNC | 19 DNC | 19 DNC |
| 14= | VHV | Hop,Dave | 114 | 19*DNC | 19 DNC | 19 DNC | 19 DNC | 19 DNC | 19 DNC | 19 DNC |
| 14= | S3 | Sylvester,Steve | 114 | 19*DNC | 19 DNC | 19 DNC | 19 DNC | 19 DNC | 19 DNC | 19 DNC |
| 14= | US86 | Yen,Royce | 114 | 19*DNC | 19 DNC | 19 DNC | 19 DNC | 19 DNC | 19 DNC | 19 DNC |
| 14= | US008 | Peer,Gary | 114 | 19*DNC | 19 DNC | 19 DNC | 19 DNC | 19 DNC | 19 DNC | 19 DNC |
Division: B
| | Sail | Skipper | Total | Race 1 | Race 2 | Race 3 | Race 4 | Race 5 | Race 6 | Race 7 |
| --- | --- | --- | --- | --- | --- | --- | --- | --- | --- | --- |
| 1 | USA314 | McDonald,Bryan | 5.75 | 0.75 | 0.75 | 0.75 | 0.75 | 2* | 2 | 0.75 |
| 2 | SM | Michna,Doug | 11.5 | 4*DNF | 3 | 2 | 2 | 0.75 | 0.75 | 3 DNF |
| 3 | USA360 | Leitner,Matthaeus | 27 | 4 DNF | 2 | 3 | 6*DNC | 6 DNC | 6 DNC | 6 DNC |
| 4= | US54 | Stienstra,John | 36 | 6*DNC | 6 DNC | 6 DNC | 6 DNC | 6 DNC | 6 DNC | 6 DNC |
| 4= | USC | Popov,Ivan | 36 | 6*DNC | 6 DNC | 6 DNC | 6 DNC | 6 DNC | 6 DNC | 6 DNC |
Division: C
| | Sail | Skipper | Total | Race 1 | Race 2 | Race 3 | Race 4 | Race 5 | Race 6 | Race 7 |
| --- | --- | --- | --- | --- | --- | --- | --- | --- | --- | --- |
| 1 | USA6 | Thole,Timothy | 2 | 0 DNC | 4*DNS | 2 DNF | 0 DNC | 0 DNC | 0 DNC | 0 DNC |
| 2 | CAN406 | Fortier,Isabelle | 3 | 0 DNC | 3 DNF | 4*DNC | 0 DNC | 0 DNC | 0 DNC | 0 DNC |
| 3 | USA21 | Olinger,Lynn | 4 | 0 DNC | 4*DNC | 4 DNC | 0 DNC | 0 DNC | 0 DNC | 0 DNC |
Division: J
| | Sail | Skipper | Total | Race 1 | Race 2 | Race 3 | Race 4 | Race 5 | Race 6 | Race 7 |
| --- | --- | --- | --- | --- | --- | --- | --- | --- | --- | --- |
| 1 | AL | Leitner,Astrid | 2.25 | 0.75* | 0.75 | 0.75 | 0.75 | 0 DNC | 0 DNC | 0 DNC |
| 2 | 143 | Lepert,Marion | 6 | 2* | 2 | 2 | 2 | 0 DNC | 0 DNC | 0 DNC |
| 3 | JD | Davenport,Jonny | 12 | 4*DNF | 4 DNF | 4 DNC | 4 DNC | 0 DNC | 0 DNC | 0 DNC |