Neil Pryde RS:X Pacific Coast Championship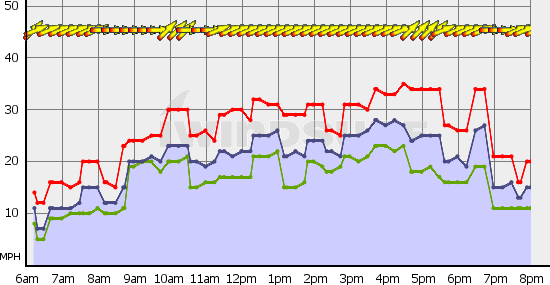 The above graph shows the wind at the Crissy Field sensor for the first day of racing Friday 9-23-05. The first heat was started at around 3:20pm, and the 2nd heat a little after 5:00pm. Over half the fleet could not make it to the start line today for the 2 heats due to the high winds.
---
Race report from Steve Bodner:
Here's a quick impression from this w-end's rs-x pacific coast championship:

We finally got to run a rs-x regatta here in San Francisco with a bunch of our local formula fleet, some top world fw sailors, as well as the developing US jr fw experience team. With a fleet of 37 boards, provided by NP, nobody could complain about having an advantage. A true one design with new boards and rigs coming out of the boxes.
Despite everyone's initial preconceptions about the board, after 3 days of racing, I think everybody enjoyed racing the boards once they got them tuned in. Sure, its not the most ideal board for light, medium or heavy wind, but it does the job and covers the range. We had conditions ranging from 30+k on the first day to 10-18k over the next 2 days. 95% of the time, the fleet was running with the cb 's up and mast tracks back like typical formula racing. The board doesn't respond as well as a formula board but many of the same techniques are used in racing. It was a bit more tactical as you could tack easier without much loss but most people picked a corner and went for it, if there was more wind there. In a few races, sailors stuck to the shore to keep out of the flood tide, tacking every minute or 2 making their way up the windward beat. Off the breeze, the board was more comfortable than a fw setup but there were some concerns with the cb poping down suddenly. A few minor tweaks could be made to improve the board and rig but overall, it seems like a good way to race with more modern equipment that might bring more people into racing.
Im not sure our local fw fleet will be changing over to a less modern and heavier board than what we are already using but the 2 classes are very similar and could be used to compliment eachother if someone wants to mount a serious campaign in the rs-x class. Jean proved on day 1 that heavyweights can be competative when it's windy with his 2nd place finish. Also it seems like the formula guys might have an advantage over the imco guys as the new class is more like fw sailing than anything else.
With 9 races and 2 throwouts, W. Schurman won the regatta with Sam Ireland close behind. Rounding out the top ten were 3- Seth Besse, 4- Alain Buldoc, 5- Zach Plavsic, 6- Steve Bodner, 7-Mike Percy, 8- Steve Sylvester, 9 Bill Weir and 10- Chris Radkowski. NP will be sponsoring a 6 stop tour next year in the US with charter boards available at each event. It would be interesting to see how other people respond to the board in different conditions but here we know it works and we will have a few boards to practice on in the upcoming months ahead.
More detailed report and photos at http://stevebodner.com/home.html follow link to regatta reports
Steve
---
Race report from Bill Weir:
North American Debut Regatta for the Neil Pryde RS:X -
A Thorough Test Of The New Olympic Windsurfing Equipment
Event Summary 9/26/05 – San Francisco – by Bill Weir

Classic San Francisco Bay conditions and a world-class fleet of windsurfers combined this weekend to put the new Olympic one-design windsurfer through its paces.

The Neil Pryde RS:X 2005 Pacific Coast Championship, hosted by Saint Francis Yacht Club, saw 37 racers from many different aspects of competitive windsurfing hit the starting line on brand new charter boards. The highly experienced fleet included current and past windsurfing Olympians, open class World Cup professionals, national and international formula and slalom champions, plus top US juniors and even a Laser class Olympian.

The first two races held on Friday afternoon proved challenging: A strong 25-35 knot clearing wind buffeted the course and kicked up the notorious Crissy Field chop. Many sailors chose to wait it out and watch as a brave few attempted the rough and tumble conditions. Lessons were learned and shared as the fleet helped one another figure out how to set up, tune, and drive the new craft.

Over the next two days of racing, ideal seasonal conditions allowed the constant tuning and testing to progress. Lighter morning breezes showed racers the highly tactical, centerboard-down potential of the board, while the steadily building 20-knot afternoon winds taught them where and when to switch to the fin-only, Formula-style mode. Very close racing right off the beach, and an increasingly tuned-up fleet resulted in a fantastic regatta right up to the last race on Sunday. The inspired competitors developed a keen interest in continuing to learn what the RS:X can do, and had rediscovered the true beauty and excitement of one-design competition. Several racers discussed their intention to pursue Olympic Gold on the RS:X.

Winning the overall regatta (and men's division) was Wilhelm Schurmann, a Brazilian National and South American Formula champion, and a professional with a strong international reputation. He was very closely followed by Canadian Sam Ireland, likewise a top international pro competitor in many types of windsurf racing. Taking third overall was 21-year old Seth Besse, a former US junior champion who is rapidly moving up the ranks at major world-level Formula events. The women's division champion was Karen Mariott, while second place went to Farrah Hall. Third in the division was Angela Hurley, who also took home the junior women's title. 17-year old Mark Boersma, a current US junior champion won his division, and rounding out the trophies was the first place master (age 40+) Mike Percy, a bay area local who placed seventh in the overall fleet score.

The RS:X, designed and produced by Neil Pryde, was chosen as the Olympic board following a series of evaluations by top windsurfers who compared several types of design approaches from a variety of manufacturers. The RS:X is a hybrid of the two main types of race board. The first is a more traditional long board shape utilizing a retractable centerboard, and the second is a 'Formula'-style, wide board, using a single fin. The hybrid approach allows for competitive performance in the widest possible range of wind conditions, an essential element for Olympic venues.
Windsurfing became an Olympic sport at the 1984 Los Angeles Games as one of the classes in the sailing event held at Long Beach. Since then windsurfing has remained part of the overall Olympic sailing event, and is raced according to standard rules of sailing.

About St. Francis Yacht Club
Founded in 1927, St. Francis Yacht Club, within view of the Golden Gate Bridge, is a year-round host of over 40 regattas on San Francisco Bay. The club is renowned for its expertise in running world and national championships.