June 25, 2005 CalCup (Pt. Isabel) Results

Race Committee Report by Jane Morson.
We hope that you had an exciting day's racing. We had a good turn out for the event, 24 racers and Devon Boulon was amongst them.
From the race committee's point of view we thought it was great fun having Devon racing. There was a lot of good banter going on between races. I also kept telling him he was being beaten by a girl each race (Linda Moroz). He took this all in his stride and was so excited when he actually managed, (after being beaten 4 races in succession,) to get across the line first...his words were 'I am going to call home... I have beaten the girl!' Now you must all note, this is not a bad reflection on Linda's racing which was actually just amazing, or for that matter Devon's, as this was all said a little ' tongue in cheek' as Linda only had to go around the course once :)
Personally from the on-looker's point of view, I felt Devon was like the hare leading the hounds....he challenged so many of you and it was such fun watching you all being put through your paces. I just hope you had as much fun as I did watching it all :)
The morning started about 6.30 am........Mike and I were at the boat at about 7.30 am.....getting it ready for the day's racing ahead!
Anders, Lynn Olinger's boyfriend, had offered to help with race committee and joined Mike and I at the boat launch site in Berkeley Marina at 10.30 am.
Anders is an International Canoe racer and will be off to race in the Worlds in Weymouth, England, this August. We offer him our best wishes in his endeavors in this World Event. I think he found race committee for CalCup fun and we thank him for his help and he is welcome back on race committee anytime. Or maybe next time he will be racing out there with all of you!
Race 1 did not start until about 1.40PM and went off without a hitch although the wind was a tad on the light side.
Race 2....a fiasco..... I had 8 of you over early... no way I could get all of your numbers.....which either meant they were unreadable or you did not have had one or I could not see you! I could only see three sail numbers clearly and I thank the three of you for making your numbers so easy to read. I did the general recall on the horn but I had not communicated this to Anders verbally as I was still trying to workout who was over early and call you all back... I realized moments later we had the Individual Recall flag up....but we felt this would not have made a difference as no one came back and both Anders and I felt that none of you would have done so because you were having so much fun:) It was decided that this race was under a General Recall and so therefore there are no results for this race.
Race 3 After you had all got over the shock of the General Recall for the previous race you all had a great start. Poor Devon.... Linda crossed the finish line before him:) The Berkeley Boys were really being challenged by Devon. They were put through their paces, and because of this so was everyone else. The challenge was on!
Race 4 Another great race and Linda crossed the line first yet again :) :) We had a racer port tacking the fleet at the start. It looked close but all went well.
Race 5 We had an over early but the racer cleared himself. Linda won again :) :) :) :) Devon again pushed you all and we had some very interesting results. Ben had problems with his foot strap.....could I find a Phillips screwdriver aboard the boat...NO ....Ben then climbed aboard the boat, whilst, in the water, Mike P held onto his rig, but we still could not find a screwdriver. I will make sure I have one next time:)
Race 6 Another port tacker at the start! Linda crossed the line again first :) :) :) well sort of :):) Yet again Devon gave you all a run for you money :)
Race 7..... As all of you should know, you check at the committee boat to see if the day's racing is over. Those of you who checked, knew that the days racing was possibly not over! The boards had a meeting....... the day was not over..... and the fun was again about to commence! We had one over early who did not clear himself. Devon this time was the first over the finish line but was chased by some very determined racers! Lyn Preuit had a very good race and I believe at one point during the course he was in the lead.
Again, we hope that you all enjoyed yourselves and had a great day of racing.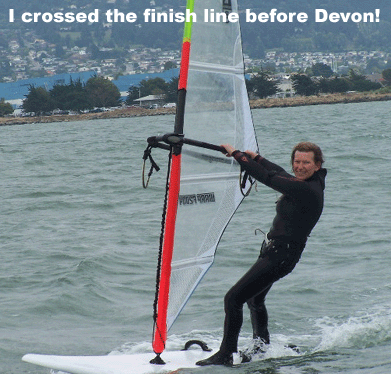 Overall Results
| | Sail | Skipper | Division | Race 1 | Race 2 | Race 3 | Race 4 | Race 5 | Race 6 | Total |
| --- | --- | --- | --- | --- | --- | --- | --- | --- | --- | --- |
| 1 | ISV1 | Boulon,Devon | A | 0.75* | 0.75 | 0.75 | 0.75 | 0.75 | 0.75 | 3.75 |
| 2 | ML | Zajicek,Mike | A | 3 | 4* | 3 | 2 | 2 | 2 | 12 |
| 3 | VYV | Percey,Mike | A | 5* | 2 | 2 | 4 | 4 | 3 | 15 |
| 4 | S3 | Sylvester,Steve | A | 2 | 3 | 8* | 3 | 3 | 4 | 15 |
| 5 | USA4 | Bodner,Steve | A | 6 | 5 | 4 | 5 | 5 | 25*OCS | 25 |
| 6 | 44 | Christianson,Eric | A | 4 | 6 | 10* | 7 | 6 | 6 | 29 |
| 7 | 22 | Bamer,Ben | A | 8* | 7 | 6 | 6 | 7 | 5 | 31 |
| 8 | a | Zahedi,Soheil | A | 12* | 9 | 7 | 12 | 8 | 8 | 44 |
| 9 | VHV | Hop,Dave | A | 9 | 10 | 11 | 13* | 9 | 9 | 48 |
| 10 | AP | Prussia,Alan | A | 13 | 11 | 12 | 8 | 10 | 38*DNS | 54 |
| 11 | 246 | Preuit,Lyn | A | 14 | 13 | 16* | 10 | 11 | 7 | 55 |
| 12 | 223 | Davenport,John | B | 25*DNF | 14 | 13 | 14 | 13 | 12 | 66 |
| 13 | USA12 | Radkowski,Chris | A | 7 | 8 | 5 | 9 | 38*DNS | 38 DNS | 67 |
| 14 | Mac | MacGrath,Jim | A | 17 | 19 | 9 | 11 | 12 | 38*DNS | 68 |
| 15 | USA314 | McDonald,Bryan | B | 11 | 15 | 17* | 17 | 15 | 11 | 69 |
| 16 | US008 | Peer,Gary | A | 25*DNF | 17 | 14 | 15 | 14 | 10 | 70 |
| 17 | L1 | Moroz,Linda | W | 18 | 20 | 19 | 18 | 17 | 38*DNS | 92 |
| 18 | EL11 | Anderson,Arden | A | 10 | 12 | 15 | 38*DNS | 38 DNS | 38 DNS | 113 |
| 19 | US54 | Stienstra,John | B | 38*DNS | 18 | 38 DNS | 16 | 16 | 38 DNS | 126 |
| 20 | T | Popov,Ivan | B | 25 DNF | 16 | 18 | 38*DNS | 38 DNS | 38 DNS | 135 |
| 21 | USA21 | Olinger,Lynn | W | 19 | 21 | 38*DNS | 38 DNS | 38 DNS | 38 DNS | 154 |
| 22 | USA370 | Py,Michel | C | 38*DNS | 22 | 38 DNS | 38 DNS | 25 DNF | 38 DNS | 161 |
| 23 | US86 | Yen,Royce | A | 15 | 38*DNS | 38 DNS | 38 DNS | 38 DNS | 38 DNS | 167 |
| 24 | USA882 | Mirel,Al | A | 16 | 38*DNS | 38 DNS | 38 DNS | 38 DNS | 38 DNS | 168 |
| 25= | CWF | Frost,Clifford | B | 38*DNC | 38 DNC | 38 DNC | 38 DNC | 38 DNC | 38 DNC | 190 |
| 25= | EL1 | Anderson,Andrew | A | 38*DNC | 38 DNC | 38 DNC | 38 DNC | 38 DNC | 38 DNC | 190 |
| 25= | >= | Kdruna,Bob | B | 38*DNC | 38 DNC | 38 DNC | 38 DNC | 38 DNC | 38 DNC | 190 |
| 25= | USA500 | Roth,Joe | A | 38*DNC | 38 DNC | 38 DNC | 38 DNC | 38 DNC | 38 DNC | 190 |
| 25= | US39 | Israel,George | C | 38*DNC | 38 DNC | 38 DNC | 38 DNC | 38 DNC | 38 DNC | 190 |
| 25= | USA64 | Besse,Seth | A | 38*DNC | 38 DNC | 38 DNC | 38 DNC | 38 DNC | 38 DNC | 190 |
| 25= | SM | Michna,Doug | B | 38*DNC | 38 DNC | 38 DNC | 38 DNC | 38 DNC | 38 DNC | 190 |
| 25= | NAR | Stewart,James | C | 38*DNC | 38 DNC | 38 DNC | 38 DNC | 38 DNC | 38 DNC | 190 |
| 25= | USA82 | Montgomerie,Robert | C | 38*DNC | 38 DNC | 38 DNC | 38 DNC | 38 DNC | 38 DNC | 190 |
| 25= | ? | Carney,Tom | C | 38*DNC | 38 DNC | 38 DNC | 38 DNC | 38 DNC | 38 DNC | 190 |
| 25= | XXX | Weir,Bill | A | 38*DNC | 38 DNC | 38 DNC | 38 DNC | 38 DNC | 38 DNC | 190 |
| 25= | JK | Kiriakis,Jim | A | 38*DNC | 38 DNC | 38 DNC | 38 DNC | 38 DNC | 38 DNC | 190 |
| 25= | Z | Rathle,Jean | A | 38*DNC | 38 DNC | 38 DNC | 38 DNC | 38 DNC | 38 DNC | 190 |
Division: W
| | Sail | Skipper | Race 1 | Race 2 | Race 3 | Race 4 | Race 5 | Race 6 | Total |
| --- | --- | --- | --- | --- | --- | --- | --- | --- | --- |
| 1 | L1 | Moroz,Linda | 18 | 20 | 19 | 18 | 17 | 38*DNS | 92 |
| 2 | USA21 | Olinger,Lynn | 19 | 21 | 38*DNS | 38 DNS | 38 DNS | 38 DNS | 154 |
Division: C
| | Sail | Skipper | Race 1 | Race 2 | Race 3 | Race 4 | Race 5 | Race 6 | Total |
| --- | --- | --- | --- | --- | --- | --- | --- | --- | --- |
| 1 | USA370 | Py,Michel | 38*DNS | 22 | 38 DNS | 38 DNS | 25 DNF | 38 DNS | 161 |
| 2= | US39 | Israel,George | 38*DNC | 38 DNC | 38 DNC | 38 DNC | 38 DNC | 38 DNC | 190 |
| 2= | NAR | Stewart,James | 38*DNC | 38 DNC | 38 DNC | 38 DNC | 38 DNC | 38 DNC | 190 |
| 2= | USA82 | Montgomerie,Robert | 38*DNC | 38 DNC | 38 DNC | 38 DNC | 38 DNC | 38 DNC | 190 |
| 2= | ? | Carney,Tom | 38*DNC | 38 DNC | 38 DNC | 38 DNC | 38 DNC | 38 DNC | 190 |
Division: B
| | Sail | Skipper | Race 1 | Race 2 | Race 3 | Race 4 | Race 5 | Race 6 | Total |
| --- | --- | --- | --- | --- | --- | --- | --- | --- | --- |
| 1 | 223 | Davenport,John | 25*DNF | 14 | 13 | 14 | 13 | 12 | 66 |
| 2 | USA314 | McDonald,Bryan | 11 | 15 | 17* | 17 | 15 | 11 | 69 |
| 3 | US54 | Stienstra,John | 38*DNS | 18 | 38 DNS | 16 | 16 | 38 DNS | 126 |
| 4 | T | Popov,Ivan | 25 DNF | 16 | 18 | 38*DNS | 38 DNS | 38 DNS | 135 |
| 5= | CWF | Frost,Clifford | 38*DNC | 38 DNC | 38 DNC | 38 DNC | 38 DNC | 38 DNC | 190 |
| 5= | >= | Kdruna,Bob | 38*DNC | 38 DNC | 38 DNC | 38 DNC | 38 DNC | 38 DNC | 190 |
| 5= | SM | Michna,Doug | 38*DNC | 38 DNC | 38 DNC | 38 DNC | 38 DNC | 38 DNC | 190 |
Division: A
| | Sail | Skipper | Race 1 | Race 2 | Race 3 | Race 4 | Race 5 | Race 6 | Total |
| --- | --- | --- | --- | --- | --- | --- | --- | --- | --- |
| 1 | ISV1 | Boulon,Devon | 0.75* | 0.75 | 0.75 | 0.75 | 0.75 | 0.75 | 3.75 |
| 2 | ML | Zajicek,Mike | 3 | 4* | 3 | 2 | 2 | 2 | 12 |
| 3 | VYV | Percey,Mike | 5* | 2 | 2 | 4 | 4 | 3 | 15 |
| 4 | S3 | Sylvester,Steve | 2 | 3 | 8* | 3 | 3 | 4 | 15 |
| 5 | USA4 | Bodner,Steve | 6 | 5 | 4 | 5 | 5 | 25*OCS | 25 |
| 6 | 44 | Christianson,Eric | 4 | 6 | 10* | 7 | 6 | 6 | 29 |
| 7 | 22 | Bamer,Ben | 8* | 7 | 6 | 6 | 7 | 5 | 31 |
| 8 | a | Zahedi,Soheil | 12* | 9 | 7 | 12 | 8 | 8 | 44 |
| 9 | VHV | Hop,Dave | 9 | 10 | 11 | 13* | 9 | 9 | 48 |
| 10 | AP | Prussia,Alan | 13 | 11 | 12 | 8 | 10 | 38*DNS | 54 |
| 11 | 246 | Preuit,Lyn | 14 | 13 | 16* | 10 | 11 | 7 | 55 |
| 12 | USA12 | Radkowski,Chris | 7 | 8 | 5 | 9 | 38*DNS | 38 DNS | 67 |
| 13 | Mac | MacGrath,Jim | 17 | 19 | 9 | 11 | 12 | 38*DNS | 68 |
| 14 | US008 | Peer,Gary | 25*DNF | 17 | 14 | 15 | 14 | 10 | 70 |
| 15 | EL11 | Anderson,Arden | 10 | 12 | 15 | 38*DNS | 38 DNS | 38 DNS | 113 |
| 16 | US86 | Yen,Royce | 15 | 38*DNS | 38 DNS | 38 DNS | 38 DNS | 38 DNS | 167 |
| 17 | USA882 | Mirel,Al | 16 | 38*DNS | 38 DNS | 38 DNS | 38 DNS | 38 DNS | 168 |
| 18= | EL1 | Anderson,Andrew | 38*DNC | 38 DNC | 38 DNC | 38 DNC | 38 DNC | 38 DNC | 190 |
| 18= | USA500 | Roth,Joe | 38*DNC | 38 DNC | 38 DNC | 38 DNC | 38 DNC | 38 DNC | 190 |
| 18= | USA64 | Besse,Seth | 38*DNC | 38 DNC | 38 DNC | 38 DNC | 38 DNC | 38 DNC | 190 |
| 18= | XXX | Weir,Bill | 38*DNC | 38 DNC | 38 DNC | 38 DNC | 38 DNC | 38 DNC | 190 |
| 18= | JK | Kiriakis,Jim | 38*DNC | 38 DNC | 38 DNC | 38 DNC | 38 DNC | 38 DNC | 190 |
| 18= | Z | Rathle,Jean | 38*DNC | 38 DNC | 38 DNC | 38 DNC | 38 DNC | 38 DNC | 190 |