2017 Crissy Field Slalom Series (CFSS)
---
We're back for the 3rd year of the Crissy Field Slalom Series with 4 Saturdays of downwind slalom racing on May 13 (results can be found here), June 10, July 15 & September 2 (note the new date!) on the San Francisco city front.
This years schedule corresponds with the StFYC Friday night slalom series for back to back Friday & Saturday slalom racing on the city front course. The June event will also be part of the US Windsurfing National raking slalom tour which features west coast events in Rio Vista & The Gorge.
Finally- we're going back to the basics and introducing a C fleet this year with figure 8 racing for novice racers right off Crissy Field in the June & July events.
The fun's not over when the racing stops- we'll be hosting a BBQ/pizza social & awards after racing for all to join with awards from most improved, biggest catapult & fastest around the course.
This year we are simplifying things (no fundraiser site) & just asking you to pre register for the series here. There's a paypal linkwhich allows us to cover the cost of race directors, marks, anchors, insurance, food & awards in advance to make sure the racing can happen.
If you're feeling generous & would like to help us even more- we have 2 options for you to join our team:
$250 Sponsorship- gets your name & company's logo on the series marketing material, press releases, official web page + 1 spot on the starting line for the series (for yourself or sponsored racer)
$1000 Title Sponsor- gets you naming rights for the event with 5 spots on the starting line for your riders of choice + all the previously listed sponsorship benefits.
We can't run the series without your support- so if you want to see slalom racing succeed- please help us out by pre registering and/or sponsoring the event.
We'll also need a team of volunteers at each race to help us with race scoring, beach ambassador & bbq host positions. Please get in contact with us here if you can help us out.
Additional details: Notice of Race (NOR) has been posted.
Thank you for your support and see you on the water!
Location:
Crissy Field, San Francisco
Race Dates:
Saturday May 13 2017 ----- Saturday June 10 2017 ----- Saturday July 15 2017 ----- Saturday September 2 2017
Schedule:
2:00 pm - Skipper's meeting
3:00 pm - First possible start
* Registration (you must complete registration AND payment in order to compete in the series):
* Secure payment via PayPal (you must complete registration AND payment in order to compete in the series):
Any Questions?:
Email us: crissyfieldslalomseries@gmail.com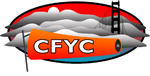 Many thanks to our generous 2016 sponsors. We could not have done it without your support!