2017 Crissy Field Slalom Series (CFSS)
---
Attention Slalom Racers! CFSS is back for 2017!
4 race dates are planned for this year on Saturday afternoons, Saturday May 13, Saturday June 10, Saturday July 8 & Saturday August 26. A 4-5 mark downwind slalom course will be set with a start at Anita Rock and a finish off the beach just west of the St.FYC with an A fleet start for experienced racers, B fleet start for less experienced racers and NEW for this year a C fleet.
The C fleet will be a Figure 8 course, with a beach start and run for 15mn, with Laps recorded by a beach master. $20 entry will cover entry to the race. Please note the C fleet will only happen in June & July.
However, we need your support to ensure slalom racing will happen this season in San Francisco. By donating to our paypal account - you can ensure the series will happen. A $100 donation (before May 13) will serve as your pre-registration for the series (vs $120 if you pay for the series after May 13) and will allow us to secure a race committee boat, race director, marks, & anchors for all the races this season . A $250 donation (by April 22) allows you to become a sponsor of the event with your name and company's logo on the series marketing material, press releases and official web page + a spot on the starting line!
The first 2 events are scheduled for May 13 and June 10 but we need to crowdfund the remaining funds to ensure that the last 2 events on July 8 & August 26 will happen. We consider your donation to be an essential part of making the series complete. Even if you're not racing, we would love your support. In addition to the funding we will also need several volunteers to help with scoring and act as a beach master. Without it, the organizers (Steve B, Jean R, Vincent F and Jonathan H) are left holding the weight of the event on their shoulders.
Additional details: Notice of Race (NOR) has been posted.
Thank you for your support and see you on the water!
Location:
Crissy Field, San Francisco
Race Dates:
Saturday May 13 2017 ----- Saturday June 12 2017 ----- Saturday July 08 2017 ----- Saturday August 26 2017
Schedule:
2:00 pm - Skipper's meeting
3:00 pm - First possible start
* Registration (you must complete registration AND payment in order to compete in the series):
* Note: if you are a Drop In racer (not doing the full series) and have registered for one of the races in the past, there is no need to register again. Simply use the PayPal link below to pay for your next race...
* Secure payment via PayPal (you must complete registration AND payment in order to compete in the series):
Any Questions?:
Email us: crissyfieldslalomseries@gmail.com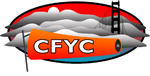 Many thanks to our generous 2016 sponsors. We could not have done it without your support!